Sheaves
We produces over 25.000 sheaves each year

with an average diameter of 1.000 mm.
The range of cable pulleys includes appropriate routes to different areas of use.
Naked pulleys feature bearing his sheaves,
you will find the pulley will best meet your needs.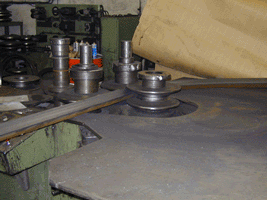 Conception
At every application, her type of cable pulleys :




- Pulley Type A called "one plate"
Generally devoted to the smaller diameters, for uses of medium intensity. Made by cold forming the periphery of a laminated disc. Hub assembly to plate of the pulley by a welding robot.
- Pulley Type B called "with radius"
Especially in this port applications (arrowheads, and all devices in which weight is paramount). Model widely used for very large diameters. The rolled groove is secured to the hub by a plurality of spokes arranged obliquely at 30° to the plane of symmetry of the pulley.
- Pulley Type C called "2 convex plates"
The most common in many versatile applications rather severe, characterized by a performance / weight interesting. The rolled groove is secured to the hub by two preformed discs. They can have holes braced, especially for large diameters.
- Pulley Type D called "one plate consolidated"
Characterized by a thick central plate, stiffened by radial ribs on either side. They are typically used on high responsability machines.
- Pulley Type M called "massive"
Pulley one block, characterized by a total absence of welding. Of Large sections are obtained by machining a forged or rolled raw, in material available (XC, 42CrMo4, PA6G ...). Occurs primarily in off shore and oil.
The standard pulleys type A B D and LG involves a material ≥ S235JR.
The standard pulleys Type C involves a material ≥ S355JR.
However, other materials can be implemented as needed.
Special Throat :
The main ore applications may include pears junction, the passage of which requires a certain pulley groove profile of a particular standard says :

- Pulley Type LG called "wide throat"
Usually occurs alternatively Types B or C.
Burnishing naturally hardens funds throat 200-250 Brinell (HB). In addition to the inherent thermal treatments weldments, some types of pulleys described above may receive a localized throat treatment, hardness and depth depending on the steel used and its section at height 300-350 HB.
Non-metallic pulleys :
Some applications may require the use of explosion-proof nylon or other materials. They are made of solid blanks or preformed according to the importance of the series.

Partenaire depuis 1977.
>>> For a quick quote, click here <<<